Everything you need to know about your checked baggage
Weight limits, outsized baggage, banned items: please read on to find out everything you need to know about your checked baggage.
Do you have hand luggage?
Restrictions concerning the weight and type of items may be applied by your airline and when you go through security. Please consult our web page for more information.
Your checked baggage
Your checked baggage is carried in the hold. Various criteria are applied to the type, number, weight and dimensions of checked baggage items to determine whether or not they will be accepted by airlines. Some types of packaging are also prohibited. Please check these conditions of carriage with your airline or travel agency.
Even if you are travelling with checked baggage, you can check in online before you arrive at the airport. Once you are at the airport, go to the check-in desk to hand over your checked baggage.
Your outsized baggage
Specific conditions may be granted by airlines for sports equipment, certain types of equipment and so-called outsized baggage items; you need to request prior authorisation for the carriage of such items 48 to 72 hours before your flight. Contact your airline or travel agency to find out more.
The following items in particular are considered to be special or outsized baggage:
fragile items such as musical instruments,
firearms and their ammunition for hunters or competitors,
bulky items, i.e. items measuring over 158 cm (length + height + width), such as: golf bags, surf boards, fishing rods, windsurfing boards, large pushchairs, bikes, etc.,
baggage weighing over 23 kg,
very small bags, such as certain vanity cases for example.
These criteria vary depending on the airline: contact your airline to find out more. 
Whatever its shape or size, your baggage item must be well packaged, protected and labelled with your name and address before you check it in.
BULKY ITEMS : Please note that some bulky items cannot be carried in the hold, and will have to be sent as freight. Contact your airline or travel agency to find out more.
PLEASE BE AWARE:
Electronic cigarettes are banned in the hold, and cannot be carried in checked baggage. However, they are permitted in the cabin.

Passengers are not allowed to carry explosive or flammable substances or devices, including: ammunition, primers, detonators and detonating cords, mines, grenades and other military explosives, fireworks and other pyrotechnical devices, bombs and smoke cartridges, dynamite, powder and plastic explosive.

Liquids, cosmetics, aerosols, sharp or blunt objects are permitted in the hold.

The competent security services may have to open and manually search your luggage without your presence and remove any prohibited items found in it.
Items not allowed in the hold : https://airbag.dsac.aviation-civile.gouv.fr/AirBag
Image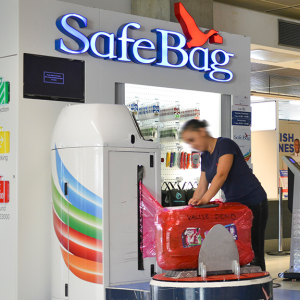 Safe Bag
Do you want to protect your suitcase from knocks and theft? You can do this in less than 30 seconds using the Safe Bag baggage protection service available in the airport terminal.
Safe Bag has scales for weighing your baggage items so you avoid any excess fees for heavy items that weigh more than the upper limit authorised by the airline.
Image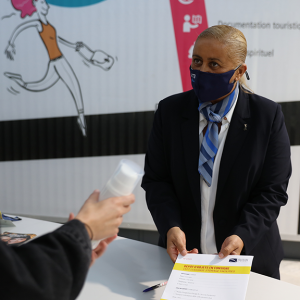 If you want to travel light, you'll be happy to leave your luggage or small items at the baggage storage facilities at the airport.
SMALL ITEMS:

Toulouse-Blagnac Airport offers lockers for small items available in the airport terminal 7 days a week. They can be used to store your keys, parking tickets or motorbike helmet, for example.

BAGGAGE & MISCELLANEOUS ITEMS:

If you want to leave your suitcase in storage to lighten your load before taking a flight, our partner Safe Bag provides a storage service for your bags and miscellaneous items.
Plan your journey
Plan your journey with full peace of mind... Follow the guide!