Publications
of the managing company Toulouse-Blagnac Airport
Aéroport Toulouse-Blagnac's mission is to maintain, develop and optimise the airport facilities to benefit the region's land use planning and economic development.
Find in the following sections all our official publications
Annual reports
2019 - A BALANCED DEVELOPMENT
Image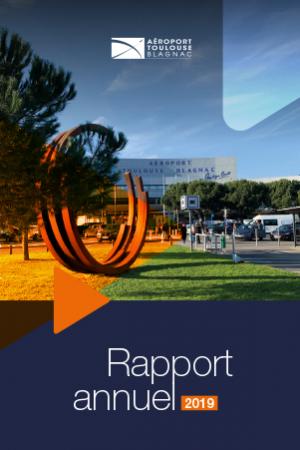 The governance of Toulouse-Blagnac Airport has undergone a major change in the last hours of 2019, with the arrival of the Eiffage group in the capital of the company. Now acting as main shareholder after the departure of CASIL Europe, Eiffage is involved in an airport platform to which it has already provided its expertise as a manufacturer and contributed, in recent years, to the success of several important projects
This arrival comes at the end of a year of stability for air traffic. Virtuous stability, because accompanied by a further decline in aircraft movements, which are lower in number than in 2000, for the second year in a row.
The past year has also demonstrated ATB's determination to anchor its activity in a logic of sustainable development. The proofs punctuated the exercise, marked by the ACA 3 certification of the ACI (Airports Council International) Europe, the commitment to zero carbon emissions by 2050 and the partnership for the creation of a hydrogen station (production & distribution).
This balanced approach to air traffic in Toulouse, attentive to the development of the activity as well as to its harmonious integration into the urban environment, finds a particular resonance with the outbreak of COVID-19. Airport teams worked tirelessly to ensure the repatriation of passengers, the transport of medical equipment and the transfer of patients to regional hospitals.
After the closure of air links for more than two months, ATB commits its forces to create the best conditions for the recovery. The stability of the company, the protection of its employees and passengers and the airport's commitment to the recovery of the regional economy are part of this revival.
Marc Legrand, Chairman of the Supervisory Board & Philippe Crébassa, Chairman of the Board of Directors
Fees and regulations
Image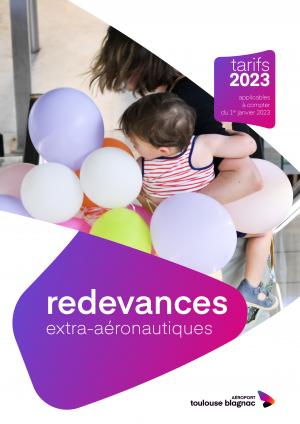 Aeronautical charges & services
The rates of charges for public airport services are not fixed after consulting the Advisory Commission Economic pursuant to the provisions of ART decision no. 2021-071 of December 23, 2021 for the period tariff from April 1, 2022 to March 31, 2023. According to Article R. 224-1 of the Civil Aviation Code, public services airport services corresponding to the services provided to aircraft operators and their service providers at the occasion of the use of airport land, infrastructure, facilities, premises and equipment provided by the operation of the aerodrome, insofar as this use is directly necessary for the operation of the aircraft or for that of an air transport service.
Extra-aeronautical charges & services
All authorizations to exercise an activity granted by the Toulouse-Blagnac Airport Company, are granted under the authorization regime for temporary occupation of the public domain of the State.
Rules of use
If you are one of our partners operating on the platform, please find all the information on badges and regulations applied in our dedicated section