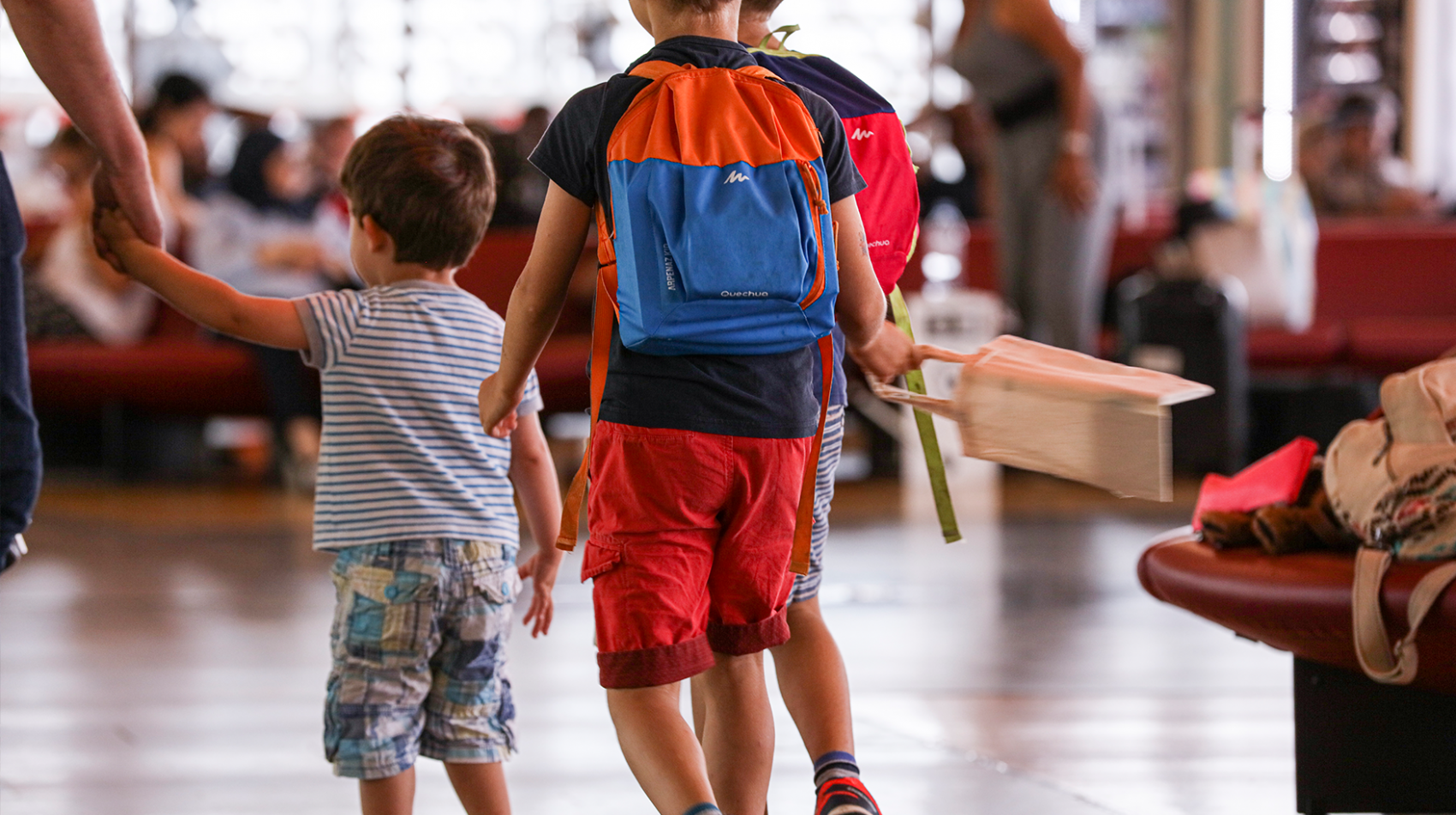 Travelling as a family, with children
Hassle-free air travel with your children!
Toulouse-Blagnac Airport is particularly attentive to the needs of our youngest passengers and their families. We offer custom services to make your airport experience easier and ensure you have a pleasant journey. Follow Nathan in this video.
Toulouse Airport looks after you:
Baby areas in the departures and arrivals halls; 
Play areas both inside and outside the terminal; 
A special lane at security clearance for families with children aged under 12 (service available only during major holiday periods); 
Self-service pushchairs;
Offers geared to families, especially children, in our shops and restaurants.
Image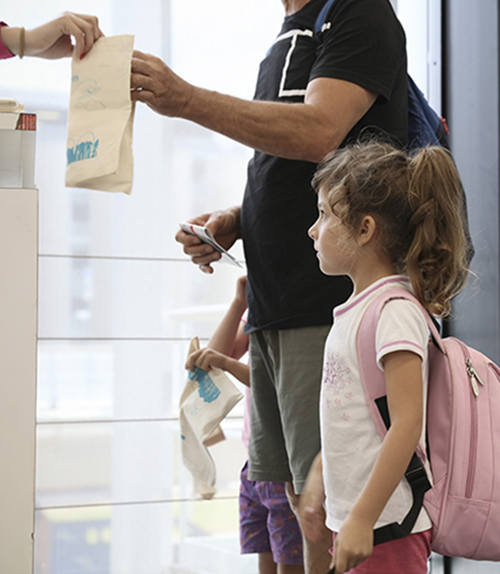 Priority security checkpoint for families with children under 12
To ensure a smooth start to your journey and make it as pleasant as possible, Toulouse-Blagnac Airport offers a fast-track security lane for families in the Departures hall (service available during major holiday periods).
School holidays 
If you are travelling during the school holidays, our staff will hand out free colouring books and games to your little ones, to help keep them entertained while they wait for their flight, and on board.
Carry-on baggage items
When you go through security, you will be allowed to take the following items onto the plane:
Nappies
Food for your baby, as much as required for the duration of the trip (milk, water bottle, small jars of baby food for the outward and return journeys as well as during your stay);
Be careful when transporting frozen milk, which must be placed in the hold
Pushchairs must be checked in and labelled at the check-in kiosks by staff from your airline, before you go through security. Please contact your airline to find out more about the arrangements for travelling with pushchairs, and the maximum sizes.
Image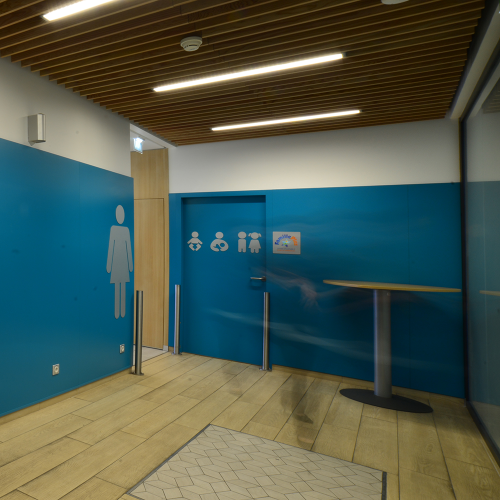 Baby areas
Facilities are available in the terminal to enable you to change your baby's nappy or heat up their food. They are located near the toilets, shown by a clearly visible sign.
Each baby area includes:
a nappy changing table;
a mattress protector dispenser;
a waste bin for nappies;
a children's toilet;
a microwave oven.
Our new toilet facilities include cubicles with chairs for breastfeeding or feeding your baby. They are located:
In the boarding area: Hall A, Hall B, Hall D shopping area
In the public area: Hall C Arrivals floor, opposite the car rental services; Hall C Departures floor, next to the Eric Kayser bakery.
If the baby area does not have a microwave, please feel free to ask the nearest restaurant to heat up your baby's meal or bottle for you - we will be delighted to help.
Image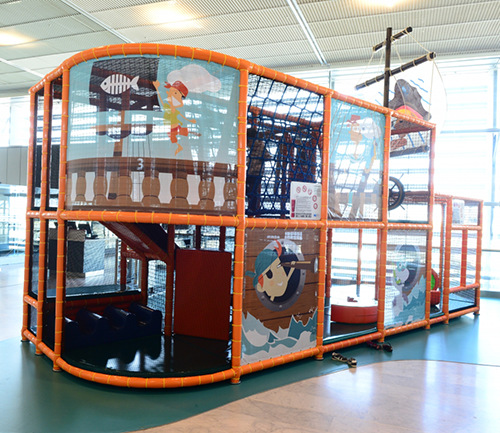 Play areas
Play areas specially geared to families have been set up around the airport, both inside and outside. Children can enjoy playing on the various climbing structures and games under their parents' supervision.
Outdoor areas:

Rocket game (P0 car park/Passenger drop-off area)
Slide plane (in front of Hall D)
Play area (Shuttle stop at P5/P6 car park)
Indoor areas:

Note:Please note that, due to the current health situation and the measures in force, the indoor play areas are temporarily closed.

In the public area:

Opposite the check-in zone in Hall C, on the Departures floor: 3 touch screen games, a screen showing cartoons, with chairs, a secure play structure.
Hall B, on the Arrivals floor, facing the entrance opposite the P0 car park: a secure play structure.

In the boarding area:

Hall B, Gate 22: a play area for toddlers, including a car, a toy plane and a play structure for developing fine motor skills.
Hall D, Gates 60-63: a giant pirate ship (secure play structure).
Please note that the play areas are under parents' supervision. Children are also asked to take off their shoes before using the climbing structures.
Image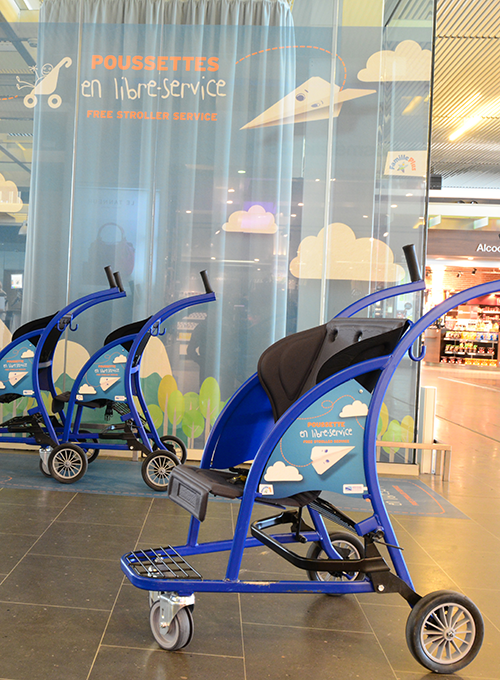 About pushchairs
You can travel with a pushchair with most airlines, and this service is usually free of charge. Depending on the model, size and weight, your pushchair will either be treated as a carry-on item or checked into the hold.
Travelling with your pushchair:
Pushchairs must be checked in and labelled in the check-in zone by staff from your airline. 
To make your time in the terminal easier, some airlines let you keep your pushchair with you through to boarding, under certain conditions. Otherwise, pushchairs will be placed directly in the hold, like any other baggage item.
Please contact your airline to find out the specific arrangements for pushchairs.
Self-service pushchairs in the boarding area:
As soon as you come through security, you will find self-service pushchairs available in the boarding area - they can be used right up to the boarding gates.
Image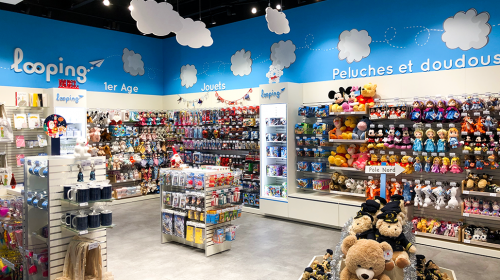 Shops and services for children
You will find everything you need for your children in the airport terminal:
Microwave ovens to heat up baby's bottle - simply ask at the catering outlets.
Children's menus at the catering outlets.
Games and toys on sale in our shops.
Image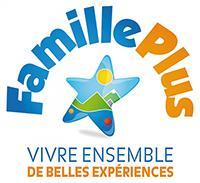 Family Plus Label
Toulouse-Blagnac Airport has been awarded the Family Plus Label for its initiatives in favour of families, including assistance and services to improve the airport experience.
The airport is delighted to welcome young travellers and their parents every day.
A smooth airport experience guaranteed
In order to travel with full peace of mind, please check our practical information to make sure your journey is well planned.