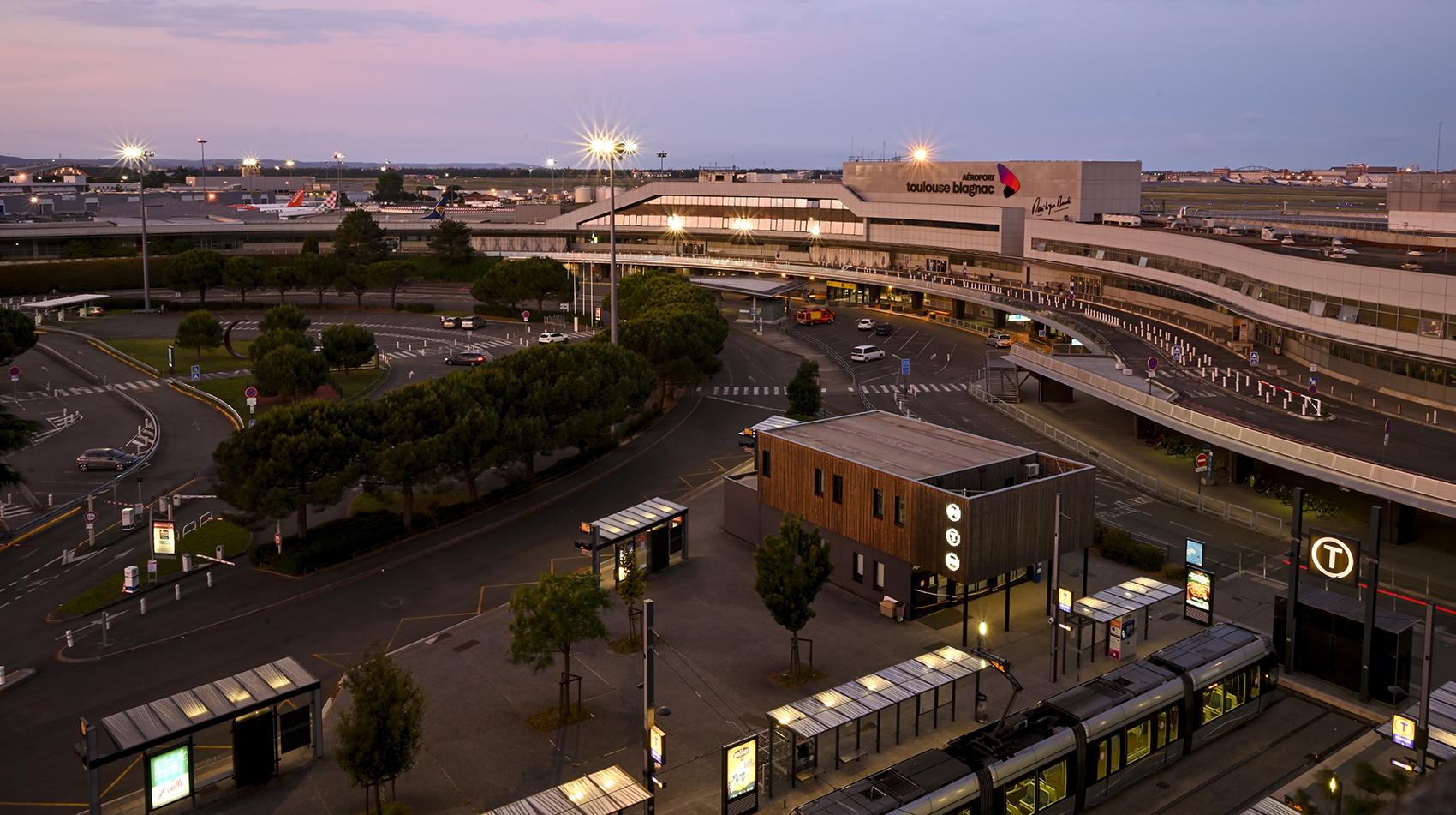 Public transport
Tram, shuttle and bus to/from the airport
20 to 40 minute journey from the city centre

Every 20 minutes on average

To/from Toulouse and the surrounding area
Arriving by tram, shuttle or bus
There are several public transport options for journeying between the airport and Toulouse city centre and the surrounding area. Discover all the options offered by the Toulouse Tisséo transport network, by tram, shuttle or bus. The choice is yours!
Image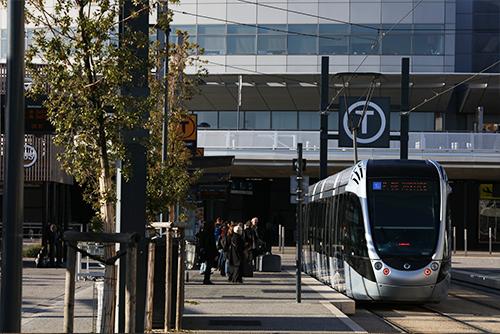 The T2 tram line links Toulouse city centre directly with the airport, the last stop.
Tram connections
The T2 tram line connects with:
Line A of the metro :  Arènes stop  : connection to Basso Cambo and Balma Gramont then to the Toulouse-Matabiau train and bus station
Line B of the metro : Palais de Justice stop : connection to Ramonville and Borderouge
The train : Arènes stop: connection with line C (SNCF TER line connected to Colomiers)
Buses : Lines T1 and T2 have many connections with the bus network.
The tram can also take you directly to the Beauzelle exhibition centre, the Zénith music venue and the Toulouse stadium.
Schedules, frequency and fares
Frequency : on average every 20 minutes. 
Travel time : Travel time: 35 minutes on average.
Fares : From €1.70 a ticket per trip.
Image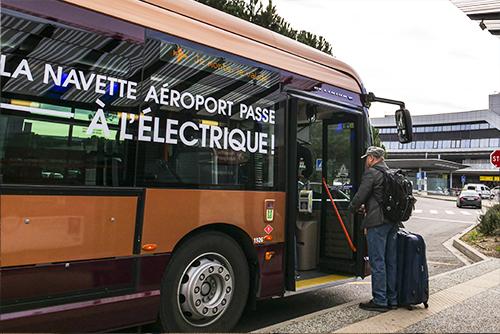 The Airport shuttle links Toulouse-Blagnac Airport and the Toulouse Matabiau station.
Stops
Stops served : lPierre Baudis Palais des Congrès (Compans Caffarelli metro station, line B), the boulevards in Toulouse city centre (Jeanne d'Arc metro station, line B), and the Matabiau station (SNCF station, intercity bus station, Marengo-SNCF metro station, line A).
Location of the airport shuttle stop : ground floor Gate C2, on the arrivals level.
Schedules, frequency and fares
Fares : 1 trip: €8,50 // 6 trips: €36
You can also use your airport shuttle ticket to travel on the entire Tisséo metro/tram/bus network. Fares may be changed without notice.
Frequency : every 16 minutes on weekdays and 20 minutes on weekends and during school holidays.
Journey time : 20 to 45 minutes depending on traffic.
Airport > Toulouse city center : First departure: 5.40 am daily // Last departure: 0.10 am daily
Toulouse city center > Airport : First departure: 5.05 am daily // Last departure: 9.40 pm daily
The shuttle runs every day except 1 May.
See schedules Summer schedules  Fares
Facilities
This line has buses accessible to persons with reduced mobility.
Air-conditioned, wheelchair-accessible bus.
Electric shuttle.
Bus line 30 (Airport - MEETT)
You can use the connections between the metro lines and the airport shuttle stops.
Information
Allô Tisséo : +33 (0)5 61 41 70 70 (Monday to Friday 6 am to 8 pm and Saturday 8.30 am to 6.30 pm)
Bus line 388 (Grenade, Ondes, Merville, Seilh, Beauzelle, Blagnac and Toulouse)
The schedule is designed to meet the needs of employees (morning, noon and evening).
The stop is located at the Tisséo bus stop.
See line 388 schedules and map..
Information
Departmental council contact information: +33 (0)5 61 61 67 67
Image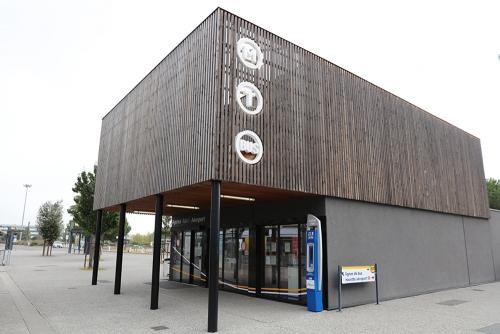 Tisséo office - Toulouse-Blagnac Airport
Location :
The Tisséo office is located next to the tram station, on the arrivals level, on the ground floor, Gate C2.
Opening hours :
Monday to Friday : 7:30 am - 2:00 pm
Sunday : 1:00 pm - 7:30 pm
Getting to the airport
Choose the means of transport that suits your needs.